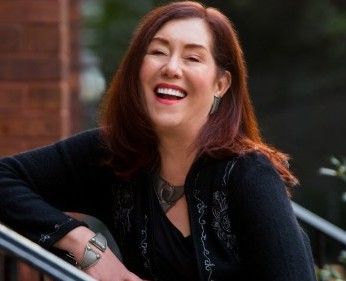 Last Spring I had the good fortune of being in the right place at the right time when a last minute opening for a Maddalena (Rigoletto) came up in Pennsylvania and New Jersey. I had never sung Maddalena before so my voice was eager for experience in the role, but my body feared the behavior of a lower class prostitute sister of an assassin. SO when I accepted the role, it was with delight and terror.
I immediately set about designing my Maddalena costume as a tool to help me get comfortable with her sultry and overt sensuality. Vocally things progressed well, but despite an off-the-shoulder blouse, revealing black bustier, flouncy black and red skirt and black suede hobnail ankle boots, I struggled in the mirror to inhabit Maddalena's body convincingly. I was a good girl, I was! From my earliest memories I was required to practice keeping my knees together when I sat down, even when wearing pants! And showing any cleavage, let alone my bosoms overflowing my neckline - fugetaboutit! 
As rehearsals progressed, my attempts to inhabit Maddalena continued to be more feminine and gentile than sexy and risque'. About a month before the dress rehearsal, I sank in front of my computer email inbox with my head in my hands asking God, what was to become of me? When I opened my eyes and looked at my screen, what was staring me in the face? A Groupon for pole dancing classes 10 minutes from my house.  God was blessing my Maddalena with pole dancing lessons!
I bought the Groupon on the spot and the rest is history.  In only 6 (excruciating) classes, pole dancing instructors who could levitate their entire bodies with only one elbow or ankle/foot at the top of a pole while doing the splits redesigned my good girl hips and shoulders to go far beyond what Maddalena needed to do on stage.  My husband was so enthusiastic about my pole dancing lessons, he even tried to install a pole in our bedroom.  Needless to say, by the time my shows began I was a completely convincing lower class prostitute sister of an assassin.